Artwork Details
Freezing Water #7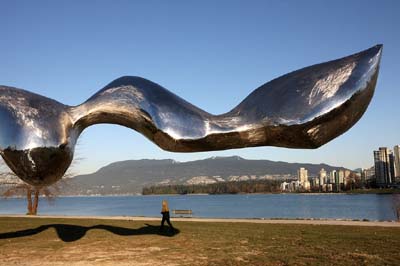 Artist
Jun Ren
Year
2009
Neighbourhood
Kitsilano
Location
Vanier Park
Description
This artwork is part of the temporary exhibitions put on by the Vancouver Biennale in partnership with Park Board Visit www.vancouverbiennale.com for more information.
Media : Stainless steel
This artist's inspiration came from pure forms; liquid water or mercury stopped in motion that revealed its shape as a drop or spill caught in the air. Though weighing seven tons, with no angles, or hard edges, the form flows visually and appears light and fluid. The foundation for this sculpture has a substructure of 65 cubic metres of concrete and steel.
Nature of Project
Temporary Installation
Park Board Funding Program
Other Public Art in Parks and Community Centres
[ back to ArtsFinder main page ]